Balance the Books is a new project by New Writing North Young Writers that invites you to discover brilliant books by authors from underrepresented backgrounds. Come and read some amazing books with us!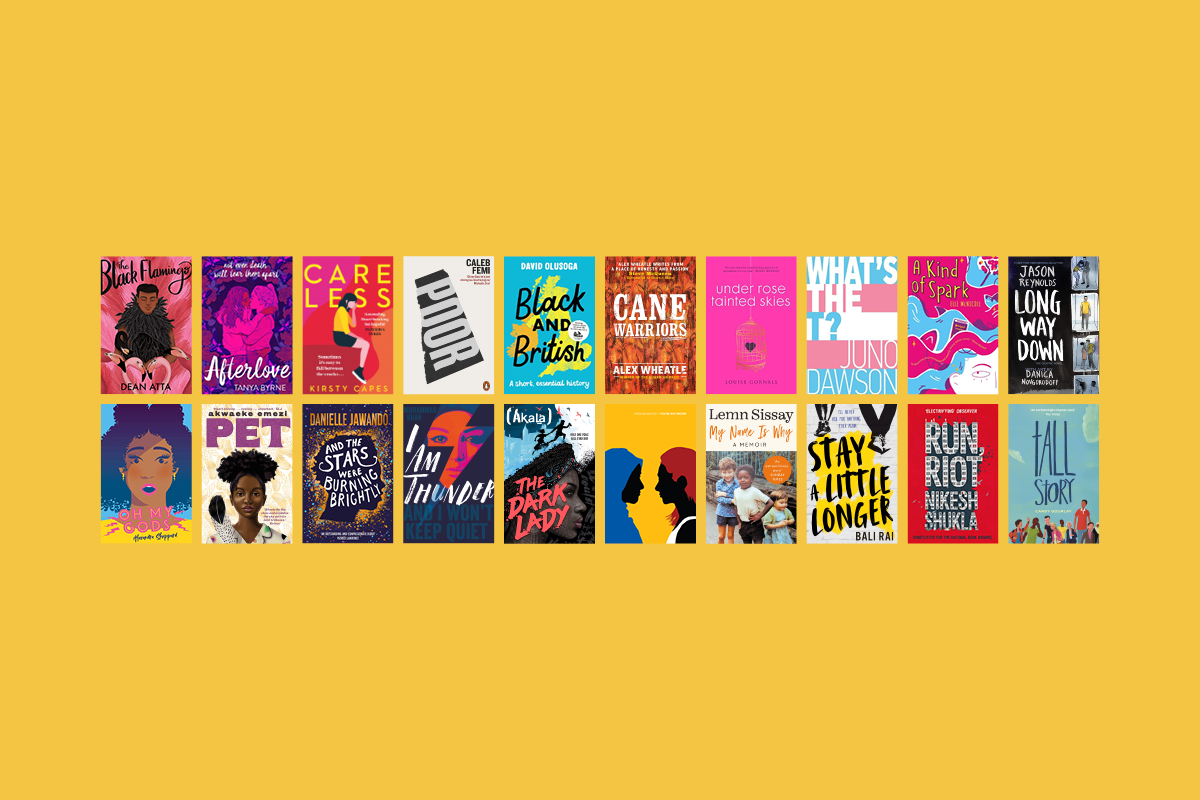 If you've ever felt stuck in a rut reading the same kinds of books, or tired of not finding characters you can identify with in fiction, then Balance the Books is for you!
Did you know that in the UK 90% of the best-selling YA titles from 2006 to 2016 featured white, able-bodied, cis-gender, and heterosexual main characters?
Yet, we know that representation matters!
We know that the best books act as both a mirror and a window: reflecting back to us our own experiences and feelings, while also revealing a wider view on the world, so that we can understand and empathise with others.
What should I expect from the Balance the Books list?
Balance the Books is all about celebrating diverse literature. You'll find amazing books by authors from a wide range of underrepresented backgrounds, including but not limited to:
people of colour
disabled people
LGBTQIA+ people
working class people
care experienced people
There are twenty titles on our list, so we hope everyone will find something they enjoy. We also encourage you to read widely and try out books you might not normally go for. Balance the Books is all about discovery!
How do I get involved?
From January 2022 we've been working on a pilot project with our partner schools in North East England, who each received their own Balance the Books shelf of books, as well as book groups and reading guides. We're hoping to roll out a wider programme in the future, so if you have any ideas or would like to be involved, ask your teacher or librarian to get in touch with us.
Whether your school gets involved or not, we hope you read along and tell us which books you enjoyed by adding notes to our pin board below; using #BalancetheBooks on Instagram, Twitter; and discovering the Balance the Books shelf on Good Reads.
Along the way, we're sure you'll find authors you love and want to read everything else they've written! Not to mention other books you think are missing from our Balance the Books shelf. We hope you'll share your recommendations in the school library or online, for other people to discover great books too.
Are you a teacher or school librarian?
Would you like to shake-up the books on your schools' shelf? Get in touch if you would like a order a set of books from our Balance the Books list. For £100 you will recieve all 20 titles as well as digital, printable resources to accompany each book.
For more information, contact [email protected].
Elle McNicoll - A Kind of Spark

A Kind of Spark tells the story of 11-year-old Addie as she campaigns for a memorial in memory of the witch trials that took place in her Scottish hometown. Addie knows there's more to the story of these 'witches', just like there is more to hers. Can Addie challenge how the people in her town see her, and make her voice heard?

Tanya Byrne - Afterlove

After Ash is killed in a car accident she must choose between becoming a Reaper gathering souls for the afterlife or seeing her first love Poppy again, in this impossibly quirky and affecting supernatural romance.

Danielle Jawando - And the Stars Were Burning Brightly

When fifteen-year-old Nathan discovers that his older brother Al, has taken his own life, his whole world is torn apart. Convinced that his brother was in trouble, Nathan decides to retrace Al's footsteps. As he does, he meets Megan, Al's former classmate, who is as determined as Nathan to keep Al's memory alive. Together they start seeking answers, but will either of them be able to handle the truth about Al's death when they eventually discover what happened?

David Olusoga - Black and British

When did Africans first come to Britain? Who are the well-dressed black children in Georgian paintings? Why did the American Civil War disrupt the Industrial Revolution? These and many other questions are answered in this essential introduction to 1800 years of the Black British history: from the Roman Africans who guarded Hadrian's Wall right up to the present day.

Dean Atta - Black Flamingo

Michael waits in the stage wings, wearing a pink wig, pink fluffy coat and black heels. One more step will see him illuminated by spotlight. He has been on a journey of bravery to get here, and he is almost ready to show himself to the world in bold colours. Verse novel about a Black gay teen drag artist.

Alex Wheatle - Cane Warriors

Moa is fourteen. The only life he has ever known is toiling on the Frontier sugar cane plantation for endless hot days, fearing the vicious whips of the overseers. Then one night he learns of an uprising, led by the charismatic Tacky. Moa is to be a cane warrior, and fight for the freedom of all the enslaved people in the nearby plantations. But before they can escape, Moa and his friend Keverton must face their first great task: to kill their overseer, Misser Donaldson. Time is ticking, and the day of the uprising approaches . . . Irresistible, gripping and unforgettable, Cane Warriors follows the true story of Tacky's War in Jamaica, 1760.

Kirsty Capes - Careless

Sometimes it's easy to fall between the cracks… At 3.04pm on a hot, sticky day in June, Bess finds out that she's pregnant. She could tell her social worker Henry, but he's useless. She should tell her foster mother, Lisa, but she won't understand. She really ought to tell Boy, but she hasn't spoken to him in weeks. Bess knows more than anyone that love doesn't come without conditions. But this isn't a love story…

Akala - The Dark Lady

The first in a magical realist series set in Shakespearean London and written with the kind of lyrical dexterity and power that one would expect from Akala, The Dark Lady references the Bard's sonnets as well as crafting an uncompromising picture of street life in Renaissance England.

Muhammad Khan - I Am Thunder and I Won't Keep Quiet

Fifteen-year-old Muzna Saleem is used to being invisible. So no one is more surprised than her when Arif Malik, the hottest boy in school, takes a sudden interest. But Arif is hiding a terrible secret and, as they begin to follow a dark path, Muzna faces an impossible choice: keep quiet and betray her beliefs, or speak out and betray her heart.

Jason Reynolds - Long Way Down

After Will's brother is shot in a gang crime, he knows the next steps. Don't cry. Don't snitch. Get revenge. So he gets in the lift with Shawn's gun, determined to follow The Rules. Only when the lift door opens, Buck walks in, Will's friend who died years ago. And Dani, who was shot years before that. As more people from his past arrive, Will has to ask himself if he really knows what he's doing.

Lemn Sissay - My Name is Why

At the age of seventeen, after a childhood in a fostered family followed by six years in care homes, Norman Greenwood was given his birth certificate. He learned that his real name was not Norman. It was Lemn Sissay. He was British and Ethiopian. And he learned that his mother had been pleading for his safe return to her since his birth. This is Lemn's story; a story of neglect and determination, misfortune and hope, cruelty and triumph. Sissay reflects on a childhood in care, self-expression and Britishness, and in doing so explores the institutional care system, race, family and the meaning of home. Written with all the lyricism and power you would expect from one of the nation's best-loved poets, this moving, frank and timely memoir is the result of a life spent asking questions, and a celebration of the redemptive power of creativity.

Alexandra Sheppard - Oh My Gods

Life as a half-mortal teenager should be epic. But, for Helen Thomas, it's tragic. She's just moved in with her dorky dad and self-absorbed older siblings – who happen to be the ancient Greek gods, living incognito in London! Between keeping her family's true identities secret, trying to impress her new friends, and meeting an actually cute boy, Helen's stress levels are higher than Mount Olympus. She needs to rein in her chaotic family before they blow their cover AND her chances at a half-normal social life. Or is Helen fated for an embarrassment of mythical proportions?

Akwaeke Emezi - Pet

There are no more monsters anymore, or so the children in the city of Lucille are taught. With doting parents and a best friend named Redemption, Jam has grown up with this lesson all her life. But when she meets Pet, a creature made of horns and colours and claws, who emerges from one of her mother's paintings and a drop of Jam's blood, she must reconsider what she's been told. Pet has come to hunt a monster, and the shadow of something grim lurks in Redemption's house. Jam must fight not only to protect her best friend, but also to uncover the truth.

Caleb Femi - Poor

What is it like to grow up in a place where the same police officer who told your primary school class they were special stops and searches you at 13 because 'you fit the description of a man' – and where it is possible to walk two and a half miles through an estate of 1,444 homes without ever touching the ground? In Poor, Caleb Femi combines poetry and original photography to explore the trials, tribulations, dreams and joys of young Black boys in twenty-first century Peckham. He contemplates the ways in which they are informed by the built environment of concrete walls and gentrifying neighbourhoods that form their stage, writes a coded, near-mythical history of the personalities and sagas of his South London youth, and pays tribute to the rappers and artists who spoke to their lives. Above all, this is a tribute to the world that shaped a poet, and to the people forging difficult lives and finding magic within it. As Femi writes in one of the final poems of this book: 'I have never loved anything the way I love the endz.'

Nikesh Shukla - Run, Riot

Aspiring MC Taran and her twin brother Hari never wanted to move to Firestone House. But when the rent was doubled overnight and Dad's chemo meant he couldn't work, they had to make this tower block their home. It's good now though; they feel part of something here. When they start noticing boarded-up flats and glossy fliers for expensive apartments, they don't think much of it – until Hari is caught up in a tragedy, and they are forced to go on the run. It's up to these teenagers to uncover the sinister truth behind what's going on in the block, before it blows their world apart.

Bali Rai - Stay a Little Longer

Aman's dad is gone, leaving her feeling lost and alone. She struggles to talk about it, but it's a fact and he isn't coming back. When a lovely man called Gurnam moves in to her street and saves Aman from some local bullies, he and Aman quickly become friends, perhaps even like family. But Gurnam has his own sadness. One that's far bigger than Aman can understand, and it's tearing his life apart. Particularly suitable for struggling, reluctant or dyslexic readers aged 13+

Candy Gourlay - Tall Story

Be careful what you wish for . . . Andi is short. And she has lots of wishes. She wishes she could play on the school basketball team, she wishes for her own bedroom, but most of all she wishes that her long lost half brother, Bernardo, could come and live in London, where he belongs. Then Andi's biggest wish comes true and she's minutes away from becoming someone's little sister. As she waits anxiously for Bernardo to arrive from the Philippines, she hopes he'll turn out to be tall and just as mad as she is about basketball. When he finally arrives, he's tall all right. But he's not just tall … he's a GIANT. In a novel packed with humour and quirkiness, Gourlay explores a touching sibling relationship and the clash of two very different cultures.

Louise Gornall - Under Rose Tainted Skies

Agoraphobia confines Norah to the house she shares with her mother. For her, the outside is sky glimpsed through glass, or a gauntlet to run between home and car. But a chance encounter on the doorstep changes everything: Luke, her new neighbour. Norah is determined to be the girl she thinks Luke deserves: a 'normal' girl, her skies unfiltered by the lens of mental illness. Instead, her love and bravery opens a window to unexpected truths…

Juno Dawson - What's the T?

Discover what it means to be a young transgender and/or non-binary person in the twenty-first century in this frank and funny guide for 14+ teens, from the author of This Book is Gay. In What's the T?, Stonewall ambassador, bestselling trans author and former PSHE teacher Juno Dawson defines a myriad of labels and identities and offers uncensored advice on coming out, sex and relationships with her trademark humour and lightness of touch. Juno has also invited her trans and/or non-binary friends to make contributions, ensuring this inclusive book reflects as many experiences as possible, and features the likes of Travis Alabanza and Jay Hulme.

Tariq Mehmood - You're Not Proper

Karen, Kiran, Karey – Kiran's name is just one of things she's feeling conflicted over. With a white Christian mother and a father from Pakistan who has relaxed from his Muslim practices, life at home isn't giving her any clues about where she should fit in. None of the cliques in school will have her, she's not 'proper' enough for any of them. Shamshad has always worn a hijab to school and she's the first to take offence when Kiran decides to try out her Islamic identity, but when her other friends welcome Kiran's conversion, Shamshad cannot keep quiet.
Dean Atta
The Black Flamingo
I never sat down to write a diverse book. I wrote a book about the world I know. The world I know has ethnic diversity, has working class and middle class people in the same family, has many kinds of family, has many sexualities and gender expressions. The world I know may not be like the world you know but now it sits proudly on a bookshelf for you to pick it up.
Elle McNicoll
A Kind of Spark
I'm thrilled that A Kind of Spark has been chosen for Balance the Books. It's so important that neurodiversity has a place in conversations about representation, and that ND authors are at the forefront. Underrepresented authors are writing the most exciting stories so it is wonderful New Writing North is championing this.
How did you choose the books?
Following a shortlisting process by a panel of young people (including Durham Youth Council), teachers, librarians and expert readers, the final selection of twenty Balance the Books titles was chosen by participants of the Young Writers programme.