What is BBC Words First 2021?
BBC Words First is a talent development scheme that ran throughout 2021. We ran an open call for participants in May-June 2021 to find the most exciting emerging spoken words artists. The selected artists attended digital workshops in July and August 2021, where they worked with established artists and mentors to develop their work.
Shortlisted artists were then given a platform to perform their own work at digital showcases, including at the Contains Strong Language Festival 2021 in Coventry. The finale of the scheme was broadcast on BBC Radio 1Xtra at the end of the year.
Among others, British poet Malika Booker and Words First alumni Isaiah Hull worked with the 12 selected artists in talent masterclasses. Lady Leshurr, the British rapper, singer, songwriter, 1Xtra DJ, and producer, was appointed as an ambassador for Words First 2021. She provided guidance and mentoring for the finalists throughout the scheme.
Throughout the scheme selected artists were attached to a regional writing agency, including New Writing North, Young Identity, Apples & Snakes, Neu! Reekie! and Nine Arches Press. The agencies supported each artist with mentoring, workshops and masterclasses.
Watch our 2021 Words First showcase.
Nadine Aisha Jassat – Lead Artist and Workshop Leader for NWN's Words First programme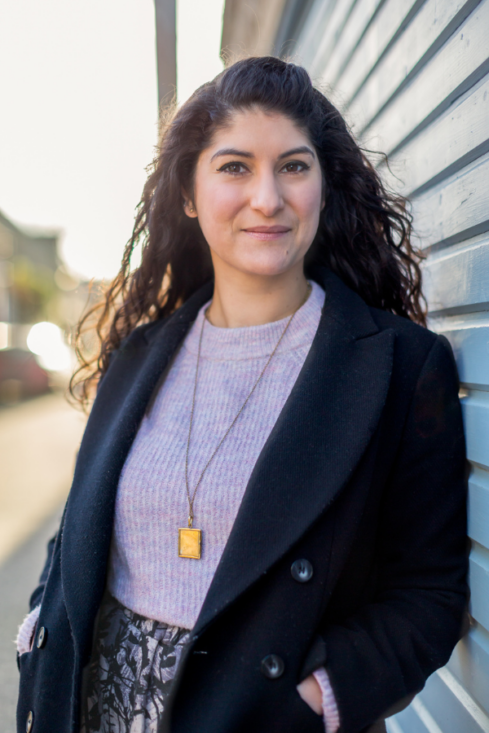 Nadine Aisha Jassat is an award-winning writer and author of poetry collection Let Me Tell You This; described as a 'beautifully written, immense and full of passion' by Nikita Gill, and 'a joy both live and on the page' by Hollie McNish. She has performed her work internationally, including as part of Edinburgh International Book Festival's Outriders Africa, and has appeared across media, including BBC's The Big Scottish Book Club. Her work has drawn significant acclaim: including winning a Scottish Book Trust New Writers Award, the UK Open Call for the British Council's Discover Project, and being shortlisted for the Outspoken London Poetry Prize and the prestigious Edwin Morgan Poetry Award. She has been published widely, including in popular anthologies such as Picador's It's Not About the Burqa, 404 Ink's Nasty Women, and Bloodaxe Books' Staying Human. In 2019 she was named by Scotland's then Makar Jackie Kay in her International Literature Showcase selection of 10 Compelling 'BAME' writers working in the UK, with Kay writing: 'Hers is a powerful, unforgettable new voice.'
Find out more at www.nadineaishaj.com.
The Artists
Aretha Ahunanya

Born and raised in East London, Aretha is a 19-year-old student with a love for the arts. Through music, spoken word and storytelling, she began writing from an early age – finding the process therapeutic. Currently she studies Engineering and Architecture at university, and aims to promote diversity within the industry.

Arun Jeetoo

Arun Jeetoo is a poet from London. His words are in The London Reader, a Black Lives Matter Anthology and The Best New British and Irish Poets 2019-2021. His debut pamphlet I Want to Be the One You Think About at Night was published under Waterloo Press (2020). Arun instagrams @g2poetry.

Ayo Olubode

Ayo Olubode expresses himself in many mediums. Music, photography or spoken word, he uses his creativity to express his thoughts and more so the perspective of others on what goes on in the world. An economics student on a corporate career path with dreams of entering the creative space.

Bhumika Billa

Bhumika is an Indian poet, Kathak dancer and legal academic based in Cambridge, UK. She has previously featured on Apples and Snakes, Toronto Poetry Slam, Airplane Poetry Movement and Button (forthcoming). She writes on privilege, heritage, and mental health to bring together languages, art forms, and people.

Carl Alexandersson

Carl Alexandersson (he/him) is a queer writer and performance poet. He is pursuing his undergraduate degree in English Language and Literature at the University of Edinburgh. He was a finalist at the StAnza Poetry Slam 2021, Slambassadors Award winner at UniSlam 2020, and is published in Ink Sweat & Tears, Impossible Archetype, and more.

Catherine Wilson Garry

Catherine Wilson Garry is a Scottish spoken word poet and writer based in Edinburgh. She has been commissioned for both page and stage by organisations including StAnza Poetry Festival, the British National Gallery, BBC Radio 4 and BBC Radio Scotland.

Chloë Florence

Chloë is a queer ex-homeless spoken word poet, actor, writer and activist based in London. 'Diva Unsung Hero of the Year' Award Winner 2021. Slam Finalist, previous Roundhouse Resident Artist. Her work's been commissioned by Sky Arts 50, Lyrix Organix and Channel 4. Her debut show S.W.E.P.E. received 5-star reviews.

Georgina Wilding

Georgina Wilding was crowned Nottingham's first young poet laureate in 2017, Creative Director of Nottingham Poetry Festival in 2019 and in the same year was recognised for a '30 under 30' award for her work in poetry. She has performed both nationally and internationally at places such as Edinburgh Fringe Festival & Milosz festival Poland and her debut collection is due out with Verve Poetry Press May 2022.

Lois-Amber Toole

Lois-Amber Toole, an actor-writer, was awarded a scholarship, graduating from The American Academy of Dramatic Arts, where she wrote and performed her one-person show Skeleton Key. The show won her The UN Women Leadership competition; Lois will be starring as the lead in Blood Shore in 2021.

Princess Latifah

Princess Latifah is a stay at home mum to a 1 year old. She lives in South London. She is a deep and passionate singer/poet and has been performing since she was a child. She believes in something called "Poetual Healing", and that raw, honest expression is a potent medicine.

Maiya John

Maiya John is a 22-year-old Creative Writing graduate who loves all forms of writing. She is heavily inspired by Maya Angelou, Maia Mayor and Benjamin Zephaniah. Maiya loves to perform her poetry at home and see's Words First as an opportunity to build confidence in performing in front of others.

Nigeen Dara

Nigeen Dara is a British-Kurdish writer and medical student. Her writing explores the themes of identity, immigration, trauma and femininity. She is currently working on her debut collection of poetry and prose due to be published in the near future.

NM

NM is a poet from London, whose work explores identity and politics. Since penning her first poem in 2017, and her first performance in 2019, she has published her first collection collection one: growing pains, featured in literary publications, and performed her first feature with community group, Women 100.

Rue Collinge

Tinker, painter, poet, spy… Rue Collinge is a storyteller, an editor, and most recently a UK Slam Champion! Raw and lyrical, she has performed across the UK and on the radio, and has been published in numerous magazines and anthologies. She helps people find their voice in an increasingly noisy world.

Seun Matiluko

Seun Matiluko is an author, journalist, poet and researcher in law, race, politics and human rights. She has appeared on Times Radio and the BBC and has written articles for gal-dem, The Independent and The Guardian inter alia. Her debut pamphlet Identity is now on sale.

Tiffany Kew

Tiffany Kew, 26, is originally from Dover, but now lives in Cardiff since completing a degree and masters in Music Engineering & Production. Tiffany's passion for music and writing raps helps her overcome her daily struggles living with chronic illnesses.
Watch the story of Words First 2019