David Cohen Prize for Literature 2019: EDNA O'BRIEN awarded prestigious prize
Posted by Jude Lowes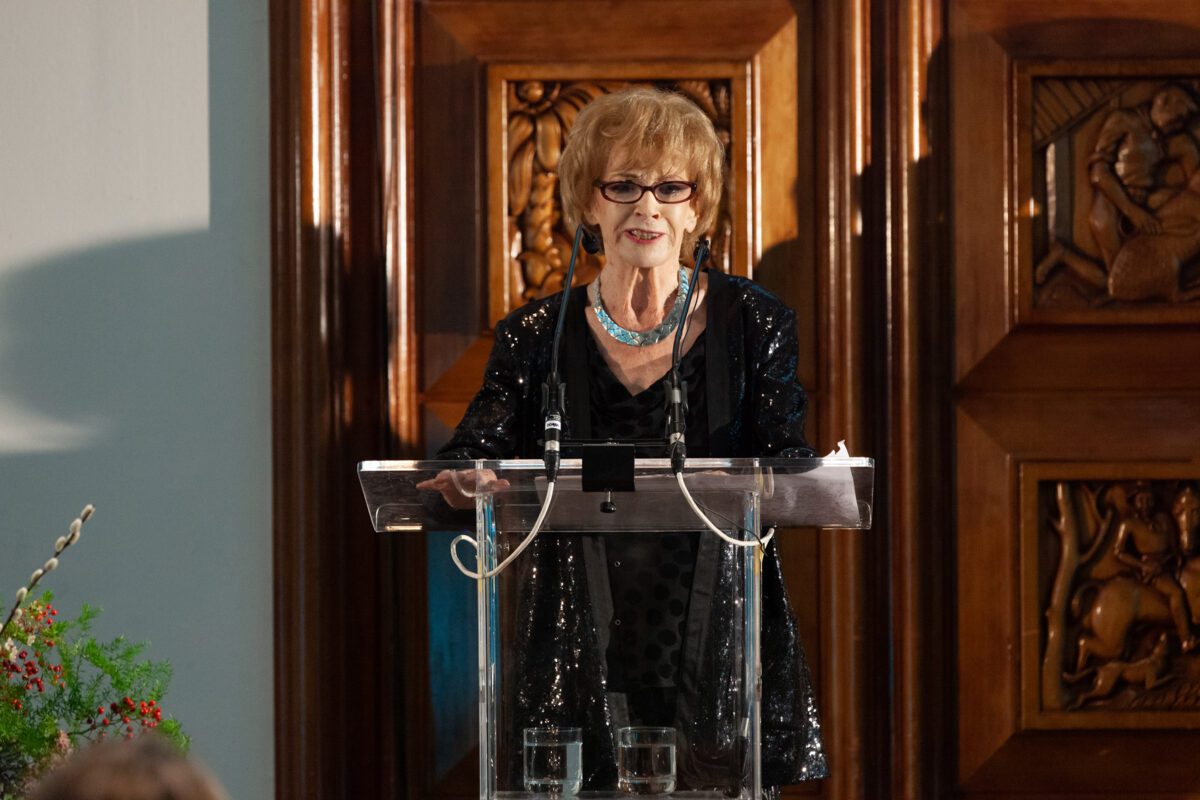 We are delighted to announce the winner of the 2019 David Cohen Prize for Literature. Unveiled on Tuesday night at the Royal Institute of British Architects, London, the prize was awarded to a writer who has broken down social and sexual barriers for women in Ireland and beyond and moved mountains both politically and lyrically through her writing:
Edna O'Brien DBE
Recognised by many as one of the greatest writers of the twentieth century, Edna O'Brien is a bestselling novelist, memoirist, playwright, poet and short story writer. John Banville called her "simply, one of the finest writers of our time" and over the decades she has drawn admiration and celebration from fellow writers across the literary landscape, including J. M. Coetzee, Ann Patchett, John Berger, Anne Enright, Michael Ondaatje, Richard Ford and Ian McKellen. Now it is with pleasure and recognition that the David Cohen Prize for Literature is awarded to her.
For over 55 years, Edna O'Brien has lived in the literary spotlight. Her lyrical storytelling has excelled in capturing the fragility and pain of the human condition. Born and raised in a small village in County Clare, her first and highly successful novel, The Country Girls, was banned and even incurred a burning in the grounds of her local chapel when it was first published in 1960. Since then she has written over twenty novels (including most recently Girl), over five works of drama and four works of non-fiction including her memoir, Country Girl. The Country Girls Trilogy was chosen as Dublin's 'One City One Book' in 2019.
The David Cohen Prize for Literature holds a unique and invaluable position: it is the only prize that is awarded for the body of work, not a solo spark of genius. In this it is singular in its approach: it is awarded every two years in recognition of a living writer's lifetime achievement in literature, and has consequently earned its position in the literary canon as the "UK and Ireland Nobel in literature". Indeed, previous winners who went on to win the Nobel proper are Harold Pinter, V S Naipaul and Doris Lessing.
Edna went on to award the Clarissa Luard Award to Clodagh Beresford Dunne. The Clarissa Luard Award was founded in 2005 by Arts Council England, in memory of a much-loved literature officer, Clarissa Luard. The award is worth £10,000 and the winner of the David Cohen Prize for Literature nominates an emerging writer whose work they wish to support. Clodagh is an Irish poet from Dungarvan, Co. Waterford. Her poems have been published and broadcast internationally. Her poem 'Seven Sugar Cubes' was voted Listowel Writers' Week Irish Poem of the Year at the 2017 Irish Book Awards.
Edna O'Brien was nominated and selected by a panel of judges under the chair Mark Lawson. They were: Imtiaz Dharker, Viv Groskop, Kate Maltby, Jon McGregor, David Park, Zoe Strimpel.
Mark Lawson, chair of judges, said: "In my five experiences of chairing the David Cohen Prize, I have found that a key consideration is the graph of the author's work. Some writers blaze early, then fade, publishing later books far below their best. In contrast, Edna O'Brien has achieved a rare arc of brilliant consistency, her literary skill, courage, and impact as apparent in a novel published as recently as September as in her first book, which appeared 60 years ago. Although in some ways overdue to a writer of this quality, the 2019 prize is timely because O'Brien's primary subject has been Ireland, a country that continues to be central to our politics and culture. As it is given for lifetime achievement, the David Cohen Prize inevitably honours work of the past, but it is a particular pleasure that it goes this time to an author who is also of such present strength and significance."
David Cohen died in August this year and the family remain involved through subsequent generations. His daughter, Imogen Cohen commented: "I am so proud that this prize can live on in my father's name, and will continue to honour all the great writers who have received it."
The awarding of the 2019 David Cohen Prize for Literature reinforces its unique and invaluable position as the only prize that is awarded for the body of work by a writer of the United Kingdom and Ireland. Established in 1992 and first awarded in 1993, the David Cohen Prize for Literature is one of the UK's most distinguished literary prizes. It recognises writers who use the English language and are citizens of the United Kingdom or the Republic of Ireland, encompassing dramatists, as well as novelists, poets and essayists. Former winners include V S Naipaul, Harold Pinter, William Trevor, Doris Lessing, Seamus Heaney, Hilary Mantel, Tony Harrison, and, most recently in 2017, Tom Stoppard.
The biennial prize, of £40,000, is for a lifetime's achievement and is donated by the John S Cohen Foundation. Established in 1965 by David Cohen and his family, the trust supports education, the arts, conservation and the environment. The prize has been managed by New Writing North since 2017.