Margaret Mulligan and Read Regional
The month of June has seen me up and out at the crack of dawn, (previously unheard of) climbing into taxis, then boarding trains for destinations unseen and sometimes unheard of. As I don't drive (very well), I was met at every station by the librarian who had booked me and then chauffeured around to the day's events. I felt a little like a minor celebrity – I could get used to this.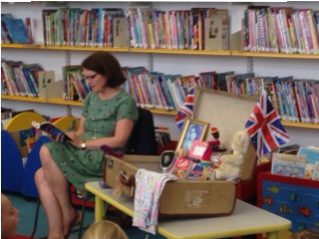 My story, a children's time-slip adventure based in the current day and the Second World War, saw me visiting five regions, starting with Alnwick, Northumberland. Here I visited St Paul's Middle school and delivered two sessions to Year 6 pupils. The children were great and so enthusiastic, asking me endlessly interesting questions, the very sort I like to ponder: 'Who do you think would play Katy Parker if the book was made into a film?' Unfortunately, my family will no longer humour such musings! After reading a few short extracts, we had animated conversations about what might happen next and what they would do in a similar situation. The way they joined in, eagerly sharing their ideas with no boundaries, never ceased to make me smile.
As I said, part of my story is based during the Second World War and explores the theme of evacuation. To this end, I brought an enormous battered old suitcase as a prop, filling it with the sorts of things a child evacuee might take – an old teddy, toffees, marbles – you get the picture. It became quite a talking point, as at each station strangers smiled at me and stopped to tell me how much they loved it. However, they weren't struggling to carry it! I do love vintage, but sticking wheels on suitcases was definitely progress – I now understand why stations used to have porters.
Over the course of Read Regional I visited nine schools in four weeks, met 320 children and covered well over a thousand miles. I loved every minute of it. Read Regional enabled me to indulge my passions of history, storytelling and teaching young people. June 2017 will be a hard month to top!