The North Recommends: Hyde Park Book Club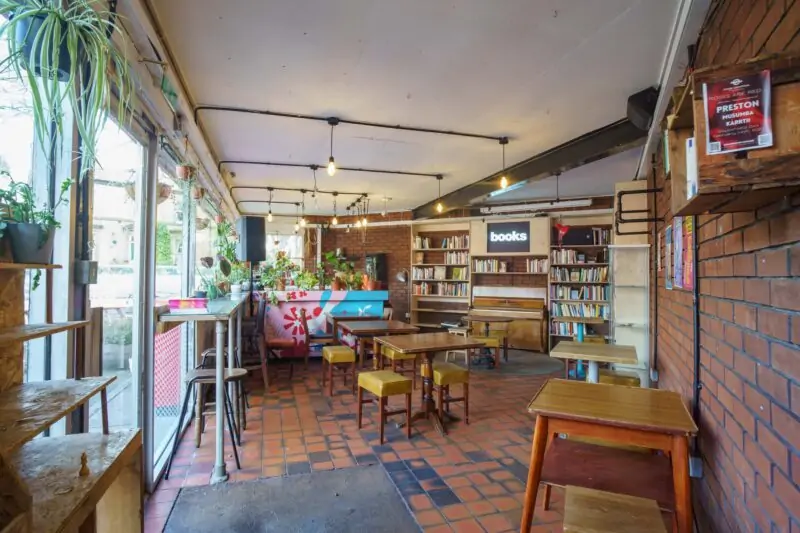 Hyde Park Book Club is an arts venue, cafe, bar and bookshop in Leeds. A place to grab drinks with friends, hear live music, sip coffee while you write, and hear from a new author. Jack Simpson tells us about the inspiration and aims behind Hyde Park Book Club, and some of the fun literary events they get to host.
We started Hyde Park Book Club accidentally. Or not so much started the whole thing accidentally, but what it has become. Originally meant to be a coffee shop, with nice beers, we quickly became inundated with people wanting to run events, talks, book launches, gigs, and even the odd seance. Since then, we've developed to have around 60 events a month, two rooms of books, a 150 cap venue and a lot of great people (both in the team and those who visit).
In naming the place, I wanted to bring together books, reading, ideas (the Book element), with music, and more hedonistic elements of the arts (hence Club). A place where people can come enjoy DJs, and have a drink with friends, whilst also being surrounded by books.
Since those early days we've had countless writers through the doors, both to give talks, take part in literary events and also… Write. The daytimes are often full of both students and writers, laptops and pads out working on ideas. The coffee flows. Inspired by the history of places like Shakespeare and Co, it feels best when we have an exhibtion on, DJs turning up, a band sound checking in the main venue, and writers amongst it all.
We have a lot of book launches, and talks, soon we'll have Clare Fisher in to launch a collection of stories, The Moon is Trending, coming out this August with Salt. Clare ran our first book club and is just great. The place feels like a kind of third space, with the unis just around the corner, so there are also always young people wanting to do events, and discuss ideas. Perhaps the main staple of our programming is Leeds Lit Fest, which we run with partners The Big Bookend, Leeds Library, Milim and the Central Libraries. This year we collaborated with Nymphs and Thugs, Leeds Poetry Festival, Leeds Arts University, Write like a Grrrl to produce a super diverse programme of events. We also programmed over at Carriageworks, Lemn Sissay a highlight, flanked by Malika Booker & Khadijah Ibrahim. Munroe Bergdorf was another highlight.
Overall, we just want to create a space where writing, ideas, thought, writers are rubbing closely with other art forms. A place where you can party, and also have quiet space. If people are interested in discussing more, they can mail me at [email protected].
Visit Hyde Park Book Club's website, and find them on Twitter, Instagram and Facebook.
Hyde Park Book Club in action