The North Recommends: Waterstones Bookshop Durham
Waterstones Bookshop on Saddler Street, in the heart of the beautiful and historic Durham City, is a warm and welcoming shop for all book-lovers.
In this guest blog post, staff members Kat and Fiona share with us some of the books they're really excited about at the moment.
Blackberry and Wild Rose by Sonia Velton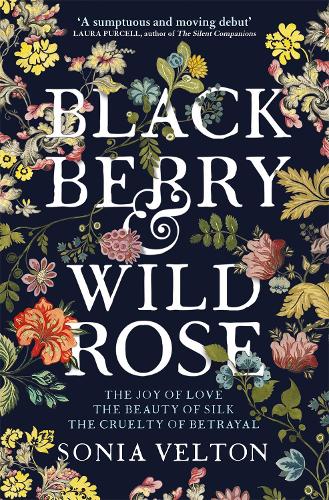 When Esther Thorel, the wife of a Huguenot silk-weaver, rescues Sara Kemp from a brothel she thinks she is doing God's will.
Inside the Thorels' tall house in Spitalfields, where the strange cadence of the looms fills the attic, the two women forge an uneasy relationship. The physical intimacies of washing and dressing belie the reality: Sara despises her mistress's blindness to the hypocrisy of her household, while Esther is too wrapped up in her own secrets to see Sara as anything more than another charitable cause.
It is silk that has Esther so distracted. For years she has painted her own designs, dreaming that one day her husband will weave them into reality. When he laughs at her ambition, she unwittingly sets in motion events that will change the fate of the whole Thorel household and set the scene for a devastating day of reckoning between her and Sara. The price of a piece of silk may prove more than either is able to pay.
Fiona says:
I had fell in love with the cover instantly and when I started to read it, I knew straight away this was something special.  Sadly, I had to put it down for work but stayed up to finish it that night, if only we were allowed to read at work…
Excellent writing – you simply will not believe that this is a debut! Fantastic storyline, completely engrossing and perfect for all! Gorgeous Cover, which is actually a silk design from the V&A!
Very very happy to recommend this on to others! This will make a gorgeous present this Christmas or a treat for yourself perhaps.
Invisible in a Bright Light by Sally Gardner
Invisible in a Bright Light, Sally Gardner's first middle grade novel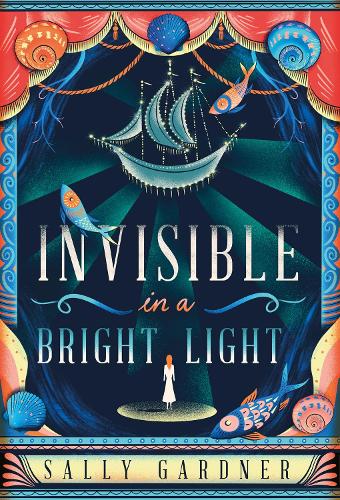 in 14 years soars with the imagination of a master storyteller. A pitch-perfect story about a crystal chandelier that splinters into a thousand pieces, a girl abandoned as a baby on the steps of an opera house and a dangerous game called the Reckoning.
It is 1870: opening night at the Royal Opera House in a freezing city by the sea, where a huge, crystal chandelier in the shape of a galleon sparkles magically with the light of 750 candles.
Celeste, a theatre rat, wakes up in a costume basket from what she hopes is a bad dream, to find that everyone at the theatre where she works thinks she is someone else.
When the chandelier falls, she is haunted by a strange girl who claims to know Celeste's past and why she must risk playing a game called the Reckoning to try to save the people she loves.
Fiona says:
This is a truly gorgeous story to read & I know so many young children (and fun-loving adults) who would definitely enjoy this! Sally Gardner is a top-class children's author. 
The story is full of friendship, magic and enough danger to ensure the tension runs high and you won't want to stop reading until you reach the very end. Most definitely recommended to ALL.
Twas the Nightshift Before Christmas by Adam Kay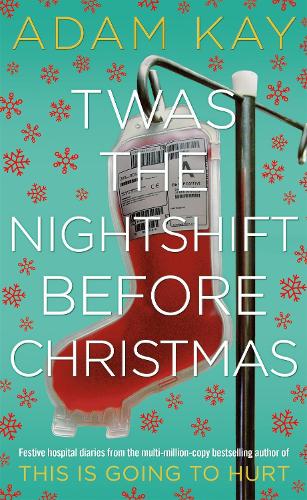 This is the second book from the author of record-breaking million copy bestseller and 2018 Book of the Year, This Is Going to Hurt.
Mordantly hilarious and occasionally heart-breaking, Twas the Nightshift Before Christmas is a celebration of the hard-working heroes of the NHS and their wonderful gallows humour.  Christmas is coming, but 1.4 million NHS staff are heading off to work. In this perfect present for anyone who has ever set foot in a hospital, Adam Kay delves back into his diaries for a hilarious and sometimes heartbreaking peek behind the blue curtain at Christmas time. Twas the Nightshift Before Christmas is a love letter to all those who spend their festive season on the front line, removing babies and baubles from the various places they get stuck, at the most wonderful time of the year.
Fiona says: 
This was definitely my most anticipated book of 2019. I am a massive fan of This Is Going To Hurt, Kay's first book and his stage show. Just like the first book I had to read it in one sitting and, yes, my lovely hubby also won't need to read this one either as once again I read most of it out loud to him while he was trying to sleep… (oops) but it is just so good you have to share.
It is wonderfully funny yet also heart breaking. I love his ideas about showing your appreciation to our hardworking NHS staff during the Christmas period; everybody should always take the time to stop and think about those who have helped them in the worst and happiest times! I will be placing this book in everyone's hands as soon as it is published – so don't bother trying to resist it – everyone needs to read both his books!
The Boy, The Mole, The Fox and The Horse by Charles Mackesy
The boy, the mole, the fox and the horse are four friends who share a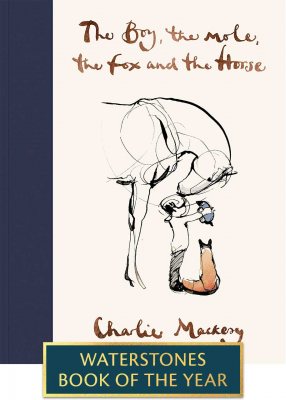 deep, unshakable bond. Through a series of brief but profound conversations, Mackesy teases universal truths and rich wisdom from the mouths of his characters, celebrating warmth and empathy in all its myriad forms. Exploring kindness through exquisite, sensitive artwork and delicate calligraphy, The Boy, the Mole, the Fox and the Horse is a moving study in friendship and the perfect gift for those people that you hold closest to your heart. Soothing balm for the soul in these turbulent, polarised times, former Spectator cartoonist Charlie Mackesy's tender illustrations have already become an online phenomenon.
Now, his finest artwork has been gathered together in this beautifully produced volume, a book to treasure forever and a permanent reminder of the need for compassion and love in a world suffused with ignorance and hatred. Waterstones Book of the Year 2019, The Boy, the Mole, the Fox and the Horse was an instant favourite with our booksellers. A book to bring people together, Charlie Mackesy's inspirational paintings and delicate calligraphic text are a celebration of kindness, compassion and understanding, conveying an essential message for our time.
Kat says:
An absolutely beautiful book that draws together glorious illustrations and imagination reminiscent of Winnie the Pooh and the heart-warming friendship from The Little Prince. Every page is a delight to read and you can read it straight through or just dip in and out for some inspiration when you need it.
Perfect for the whole family and the ultimate Christmas gift for 2019.
No One Is Too Small to Make a Difference: Illustrated Edition by Greta Thunberg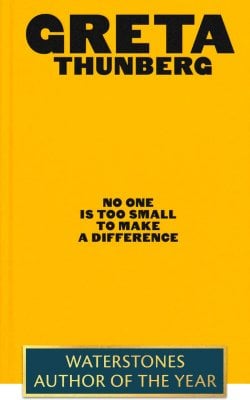 From a solitary protest in August 2018 to the mobilisation of millions the world over, Greta Thunberg has irrevocably altered the conversation on humanity's response to climate change. Impassioned, articulate and determined, her speeches have electrified the world. The clarity of her message and the passion of her delivery have been fundamental in inspiring hers and every generation to sit up, take notice and act to address the most urgent issue that the world faces today.
Her indefatigable spirit has won over everyone from scientists and experts such as David Attenborough, who praised her 'passion' and 'insight', to former US President Barack Obama, who described her as 'one of our planet's greatest advocates,' and cultural commentator Naomi Klein who named her 'one of the great truth tellers of this or any other time.' No One is Too Small to Make a Difference documents a seismic political and cultural moment. Collecting Greta's speeches together in one volume, this timely book lays bare the eloquence and fury that drive a global environmental movement.
Kat says:
Focusing one of the most important themes of our current times Greta's moving and heartfelt speeches are a vital piece of history and this is the perfect book to own a small part of that. Her tireless commitment and efforts are a reminder that we all have a voice and the power to make a difference, even if that's only in our own 'small' way.
This lovely illustrated edition includes five new speeches from Vienna, Paris, Washington D.C, New York and Montreal and has been printed in the UK, on paper from responsibly managed forests, to minimise its carbon footprint.
---
69 Saddler Street, Durham, DH1 3NP
Tel 0191 383 1488
Twitter: @wstonesdurham
Facebook: wstonesdurham
Instagram: @wstonesdurham