What We're Reading: Winter 2022 Edition
If you're stuck on what to the buy the bookworms in your life, the staff at NWN have you covered! We asked the team what books they enjoyed in 2022, what they'll be gifting and what books they're hoping to receive this Christmas.
Jess White
I absolutely love cooking and more importantly eating. And I love, love, love receiving cookbooks as presents. They are manuals for learning new cuisines and transporting us to faraway places. As well as, if followed correctly hopefully creating some tasty food!
So, this Christmas, I am gifting I Am a Filipino for my Mum, who is a Filipino, because though she is from the Philippines, she didn't actually learn to cook until she moved here and even then, it wasn't Filipino food she learned but British. The reason behind this she says is because when she was growing up, she was never allowed into the kitchen to watch the cooking. I have previously bought this book once before, for my cousin Lindsay, who like me is mixed-race (half-Filipino & half English) and when I gifted it to her, my Mum requested that I buy her a copy too.
This book contains all the best loved Filipino dishes such as Adobo (national dish of the Philippines, usually made with pork or chicken marinated in vinegar and then cooked with lots of garlic, bay leaves and black pepper corns) pansit (Chinese-influence noodles) and lumpia which are spring rolls, and many other deliciously vibrant recipes too!
If like me, you are a massive foodie and wanting to experience some new cuisine, this could be a lovely Christmas gift for someone you love or for you!
Margot Miltenberger
One book I really want for Christmas this year is All My Puny Sorrows by Miriam Toews. Her quote about Budapest being 'plucky and sad' was always on my mind when I lived in Budapest, and I've finally tracked it down to that book. I'm also hoping for another Joan Didion. I've been spacing her books out between special occasions so that they last longer, and I think it's time for Let Me Tell You What I Mean. Sea of Tranquillity by Emily St John Mandel is high on my list as well. Her novels are all transportive, absorbing experiences, perfect for long cosy days by the Christmas tree.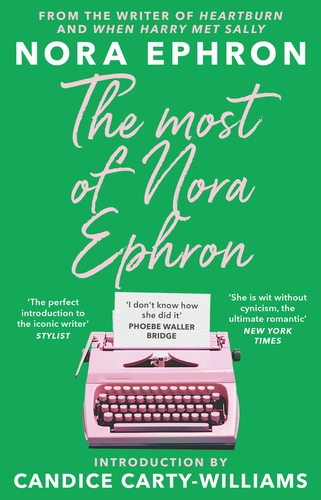 Rebecca Wilkie
This Christmas I am hoping to receive Super-infinite: The Transformations of John Donne by Katherine Rundell. I love biographies and have heard glowing reviews of this account of the misadventures of our most famous metaphysical poet. This book has just won the Baillie Gifford Prize and I know from her writing for children, just what a brilliant writer Katherine Rundell is. I will be gifting many books as usual this year and one will certainly be Penguin's recent reissue of The Most of Nora Ephron, with a new introduction from the excellent Candice Carty-Williams. This collection of Ephron's witty and incisive essays and journalism also contains scenes from When Harry Met Sally and extracts from Heartburn – all perfect for dipping into over the festive period!
Finally, for anyone if search of stocking fillers, I recently re-discovered my pocket-sized and beautifully illustrated edition of Dorothy Wordsworth's Christmas Birthday, written by Carol Ann Duffy, when she was Poet Laureate. It's an absolute treat and such and evocative portrayal of a snowy Lake District evening in 1799. One to read on Christmas eve with a glass of port in hand.
Anna Disley
On my list is: Aletha Hayter's: A Sultry Month, Scenes of London's Literary Life in 1846, which was reissued by Faber this year. Described as a 'ground-breaking feat of creative non-fiction', it was written in 1965 and is set during a London heatwave in June 1846, featuring Wordsworth, Dickens, Elizabeth Barrett and parties hosted by the Carlyles, what's not to love!? Given the depressing state of things, I am looking for practical hope so I have also asked for Fintopia: What we can learn from the World's Happiest Country, surely we need an injection of the Finnish way of doing things in 21st Century UK? As for novels I would like AM Homes' The Unfolding, Claire Malcolm was reading it recently, maybe she will lend me hers.
And for gifts I will give, I think a gem of a book is Benjamin Myers' The Perfect Golden Circle, a tender and quietly political novel about a pair of crop circlers in the late 1980s.
Kathryn Tann
This year, I'm planning to gift lots of books – partly because I think they make wonderful gifts (along with some chocolate… a little Icelandic 'bokaflod' under the tree!) and partly because I want to support authors, bookshops and publishers facing a tough year ahead for the industry. I'll absolutely be buying some copies of Cold Fish Soup by Adam Farrer – heartfelt and masterful essays from the Yorkshire coast which have had me cackling away to myself at bedtime. Full of poignancy, but certain to make a few friends and family smile. Myself, I'd like to unwrap a new cookbook (to add to my already enormous stack). Possibly Sarah Flower's new Comfort Food from Your Slow Cooker, or Hugh Fearnley Whittingstall's Good Comfort. Tis the season of long cosy evenings and steamy kitchen windows, after all…
Claire Malcolm
By anyone's standard I read a lot of books, so consequently people usually avoid buying me books as presents as it's likely that if they have picked well I will have already read it. I know, I'm a total nightmare to buy for.
Last Christmas and new year I read three long novels: Colm Toibin's The Magician, an epic journey into the soul of Thomas Mann and Germany, Jonathan Franzen's Crossroads, a enjoyable baggy family saga of adultery that immersed me happily in an unhappy family and then for new year, the astonishing Anna Karenina by Tolstoy which I found profoundly moving and which meant my January whipped by as I was really in Russia, my heart breaking worrying about Anna and what would become of her. I'd recommend all three books (and if you love the Russian storytellers, A Swim in a Pond in the Rain by George Saunders is a treat).
So, this Christmas I'm looking for a big story in a similar vein and have decided on Demon Copperhead by Barbara Kingsolver with the idea that I might then read David Copperfield in January. Kingsolver is a genius. I loved her last novel Unsheltered and can't wait to read this. She's so good on contemporary life set against the bigger human questions and with a narrative arch inspired by the classic, I'm ready for the long haul.
Grace Keane
Usually, I would be keeping tight lipped about the books I'm gifting this Christmas (hi Mum if you're reading this) but one present I'm giving this year was a joint venture. As my sister and I were browsing the bound bookshop last week, she picked up a book with a gorgeous cover and so it was decided. The book that had caught her eye was Early Morning Riser by Katherine Heiny, which as well as having a delightful cover is one of the best books that I read last year. It's a heart-warming, genuinely laugh out loud novel about a young woman who moves to a tiny town in Northern Michigan. She soon meets a cast of wonderfully weird characters who stay with her throughout her life – Gilmore Girls fans, this is the book you need in your life.
As for what I'm hoping to receive this year, (hi Mum if you're reading this) our Chief Exec Claire has been raving about George Saunders' A Swim in a Pond in the Rain. Saunders provides commentary on seven classic Russian short stories and in doing so explores how fiction functions and how the mind words as we read.
Carys Vickers
I would love to gift someone my favourite book of 2022, Project Hail Mary by Andy Weir, but it has already been passed around and loved by most of my family, so my options are limited. It's a clever and surprisingly heartwarming novel that offers a creative take on classic sci-fi tropes. Andy Weir has such a distinctive witty voice, and his love of science clearly shines through as he creates well thought out scenarios that feel within the realms of possibility. I was completely gripped the whole way through and couldn't stop thinking about it every time I put the book down.
I don't have any books on my Christmas list this year, as I'm trying to slim down my ever growing TBR pile, but my secret desire is the gorgeous new illustrated edition of The Silmarillion by JRR Tolkien, a tome I am hesitantly hopeful I can tackle since rereading The Lord of the Rings earlier this year.
Laura Fraine
I always enjoy Jennifer Egan's books and particularly admire the way she refuses to be pigeon-holed in a particular genre, whether reinventing the novel as a form in A Visit from the Goon Squad or in the more traditional, but equally sustaining Manhattan Beach.
Egan is back in Goon Squad territory with its 'sibling novel' The Candy House, exploring many of the themes that seem to preoccupy me around memory, connection, technology and the social (media) experiment that is playing out on our lives. Numerous reviews have called The Candy House 'kaleidoscopic', and I love that kind of fragmentary, multi-perspective, brightly-coloured kind of thing, while Andrew Billen in the Sunday Times called the book a 'modern-day Middlemarch'. My Mum and I have supposedly been reading Middlemarch together for at least 5 years, without much progress, so I'm getting this as a joint present for both of us.
Emily Wright
What's more lovely than a pile of wrapped books underneath the Christmas tree, waiting to be discovered by their recipients? Here's what I'll be wrapping and reading this winter:
For my partner, I have Tate Britain's Visions of the Occult: The Untold Story of Art and Magic by Victoria Jenkins, a strange and beautiful art book in spectacular colour which deep-dives into the Tate Archive; 'a clandestine depository of the world's most extensive collection of archives relating to British Art.' Jenkins 'reveals the hidden magical worlds of the artists we thought we knew – through witchcraft, parasciences, magical stones, alchemy, […] revealing that occult influences have always been present in artistic practices, if only we choose to see them'. For my mother-in-law who lives on the Southern coast and adores a stomp in the great outdoors, I have Raynor Winn's inspiring memoir, The Salt Path. The book tells the story of Winn and her husband receiving his devastating diagnosis which coincides with them losing the family home. In response to their lives falling apart, Winn and her husband Moth decide to walk the South West Coast Path.
For my mum, I've chosen Soetsu Yanagi's The Beauty of Everyday Things, a collection of essays that ponder and celebrate commonplace objects that are quietly useful and, in their own way, beautiful. Personally, I'm looking forward to reading Clare Keegan's Small Things Like These, a festive and suitably cosy read set in an Irish town in 1985 during the weeks leading up to Christmas. I also adored the heartbreaking Hamnet so I'm looking forward to reading Maggie O'Farrell's (hopefully equally as wonderful) The Marriage Portrait.
Will Mackie
So many books have moved, entertained and enlightened me this year and these are a few I'd like to give to special people in my life. England's Green is the new collection by Zaffar Kunial, a truly original voice whose poems grow and deepen through re-reading. Rachelle Atalla's debut novel The Pharmacist is an absorbing and dark story that feels especially poignant in this tumultuous year. Emily St John Mandel's new novel, Sea of Tranquillity, is the perfect gift for anyone who likes an exhilarating time-travel crime mystery. Illuminated by Water by Malachy Tallack is an elegantly written and insightful memoir with appeal to non-anglers (like me) as well as people who fish regularly. Marcus Sedgwick was a wonderful writer and his recent passing is a huge loss – The Ghosts of Heaven is a great introduction to his varied and innovative body of work.
If any of my immediate family happen to be reading this, I'd very happily receive Ducks, the new graphic novel by the amazing Canadian comics creator Kate Beaton.
Tess Denman-Cleaver
This Christmas holiday I'm planning to read A World Away: A Memoir of Mervyn Peake by his wife, the painter Maeve Gilmore. I love Mervyn Peake's poems, I read them like comfort food. Maeve Gilmore had a retrospective exhibition earlier this year at Studio Voltaire, which was my first encounter with her paintings that seem to have the same soft sense of humour as Peake's nonsense verse. I wish there was a biography of Gilmore herself, who made her domestic world and family life the subject of her art, but this will have to do for now.
Laura Lewis
I love buying books for my family as they very rarely buy them for themselves and it feels quite nice being the resident 'book expert' in my house.
The only book that I've already bought and wrapped (which is very organised for me) is Uzumaki by Junji Ito. It isn't necessarily the first book I'd think of when thinking of cosy Christmas gifts but my brother has been reading a lot of horror, specifically surrealist, so I couldn't think of a better book to gift him. Uzumaki is the story of a town contaminated with spirals. Ito uses the common and ordinary shape of spirals to create uncomfortable and grotesque imagery throughout the book yet I'd still describe the artwork as beautiful, or at least incredibly impressive. This isn't a collection I'd recommend to just anyone but definitely for any fans of nightmarish literature.
Personally I'm asking for Sinopticon which is edited by Xueting Christine Ni. I love science fiction and this book is a celebration of Chinese science fiction showcasing thirteen stories that represent some of the nation's speculative fiction from the late 20th Century onwards. I'm always keen to discover new styles of science fiction, which I'm hoping to do through reading this book.