REVIEW: Amanda Owen, Adventures of the Yorkshire Shepherdess
Posted by Jude Lowes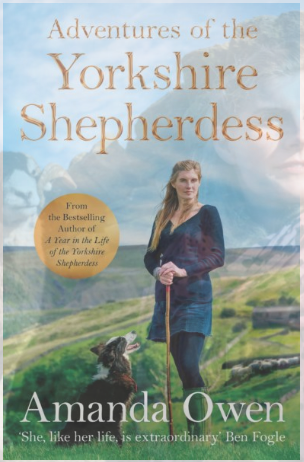 6 October 2019
Palace Green Library
Review by Bethany Townsend
Amanda Owen's new book Adventures of the Yorkshire Shepherdess is a refreshing account of her unconventional life, working as a hill farmer in the remote Yorkshire Dales with her family of nine children. In conversation with broadcaster Marian Foster, the audience was treated to engaging, entertaining dialogue throughout. The latter described Owen's "wonderful way of telling a story", and this was certainly clear from the beginning of the event. Amanda read an excerpt from her new book, enlightening new readers and reminding old readers of her unorthodox, inspiring way of life.
This is Amanda's third book detailing the adventures of her extraordinary life. Amanda's love of writing, and of sharing her remote world with the audience, is clear from her warm manner and openness. Amanda notes feeling a desire to "translate" the questions that many visitors to her farm, Ravenseat, have about her unique lifestyle. When granted the opportunity to write a book, Amanda took this chance to tell her story, adopting a "what's to lose?" attitude. Having been tasked with writing 80,000 words in six months, and possessing an E grade in GCSE English, Amanda joked that she was astonished when she in fact wrote 120,000. To me, this demonstrated what an extensive story Amanda had to tell – not least of all because she has since finished a third book!
Amanda spoke of a love of reading being prominent in her life, and laughed while noting that she wasn't just saying it because she was at Durham Book Festival. It was touching to hear about the impact of James Heriot's work on her life, as well as a photography book depicting the lives of hill shepherds. It was not until years later, when asked to write the foreword for a new edition of this book, that Amanda noticed that her husband Clive had featured in this book she had read as a teenager. Photography as a visual diary is noticeably important to Amanda too, with photographs of her and her family in the beautiful Dales projected behind her during the event.
As an audience, we left Palace Green Library and were transported to Ravenseat with Amanda, who shared her life experiences with us so openly and honestly. Amanda's words, coupled with her own stunning images, gave the audience a small portal in which we gained an insight into Amanda's fascinating world.
This work was produced by participants on our Durham Book Festival Reviewers in Residence programme, a cultural journalism programme run by New Writing North Young Writers. Reviewers in Residence gives aspiring journalists aged 15-23 the chance to review books, attend events and interview authors at the Durham Book Festival. For more information about New Writing North Young Writers visit the New Writing North website.